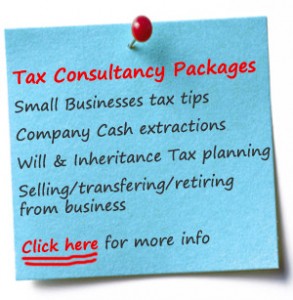 Tax Consultancy is compulsory for many businesses and individuals at different stages. Often an individual or business will seek tax consultancy advice at the end of a project when advice at the beginning would have resulted in greater savings.
All fees for services outlined hereunder can only be determined on a case by case basis. However, they will also very much be dependant on whether a tax saving can be sought. If no additional tax advice can be given there will be no fee. The fee will only be based on tax advice that will lead to actual savings.
Packages are available to a number of business types as follows:
Starting your own business
Should you operate as a sole-trader, partnership or company
Should you employ your spouse or your spouse become a partner in the business
How do you maximise your social contributions for yourself and your wife?
How do you maximise your tax free travel and subsistence income from the beginning? What records do you need to keep?
Should I set up a pension?
What social welfare entitlements can I keep by starting my own business?
What costs can I claim?
Should I register for VAT?
Should I purchase a petrol/diesel car or van?
Any many more…………..
Sole-traders, Companies, Professionals, Partnerships already in business
By just having your accounts and previous tax assessments from Revenue, you can be given a report on any tax savings that you may be missing out on or even if there are any potential issues with accounts.
All is required for this review is a copy of current, previous accounts, tax assessments and a few questions to be answered. We do not need to register as your agent with Revenue for this advice (unless you would like so).
Companies
Retiring or passing the business onto the next generation?

Selling the business or even just winding down?

Cash extraction plans available.
Often it is the best to put these in place years before making the final decision to start extracting cash tax efficiently as early as possible. However, plans can also be put in place at the end.
However, appropriate advice should be sought as the there are many tax implications i.e. Income Tax or CGT on cash extraction,
VAT on passing business (and property if involved)

Stamp duty on shares/transfer of properties

Implications on pension schemes in place,

Corporation tax losses/terminal loss claims

Tax free termination payments and many more…
Farmers
Transferring farm assets to the next generation is often the biggest tax planning request for farming families. Not only are you transferring the farm, farm machinery and farm buildings but often the family home, shares (Kerry group etc), cash and pension funds not fully drawn down. If agricultural and business relief tests cannot be satisfied or fully satisfied, you are often left open to inheritances tax bills of up to 25% on some of the assets. In some cases it is possible to mitigate these by a mixture of gifts and inheritances over your lifetime.
In order to give a proposal in relation to same all that is required is a list of assets, loans and a draft of your intentions for your will. No information will be requested from your solicitor or accountant.
Selling sites may still be an important issue for some land owners. HOWEVER, with the new 80% windfall tax on many site sales, specialist advice should be sought and the tax implications factored into any potential sales.